About Us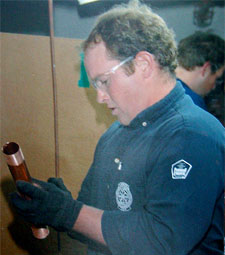 Clifford Bruckner, son of President James Bruckner, won first place in the 2008 Plumbers' Joint Apprenticeship Committee's 17th Annual Apprenticeship Contest.
Chas F. Bruckner and Son, Inc. is family-owned and -operated. It is a licensed commercial plumbing and site utility enterprise.
The company has a rich history dating back to 1890 when it first opened its doors at 503 W. 26th Street in Chicago (where is still remains).
Chas F. Bruckner and Son Plumbing currently employs Local 130 and 501 plumbers, Local 150 operating engineers and union laborers. The company also boasts an experienced and dedicated office staff.
Bruckner Plumbing is a member of the Plumbing Contractors Association, the Illinois Association of Plumbing, Heating and Cooling Contractors, the Plumbing and Mechanical Contractors Authority of Illinois and the Plumbing Council of Chicagoland.
Chas. F. Bruckner and Son Plumbing has accomplished much over its 118 years in business, completing numerous projects for schools, retailers and more.